National Economy's Plumbing Blog
Plumbing Articles from New Orleans, LA
When Should You Call a Plumber for a Clogged Toilet?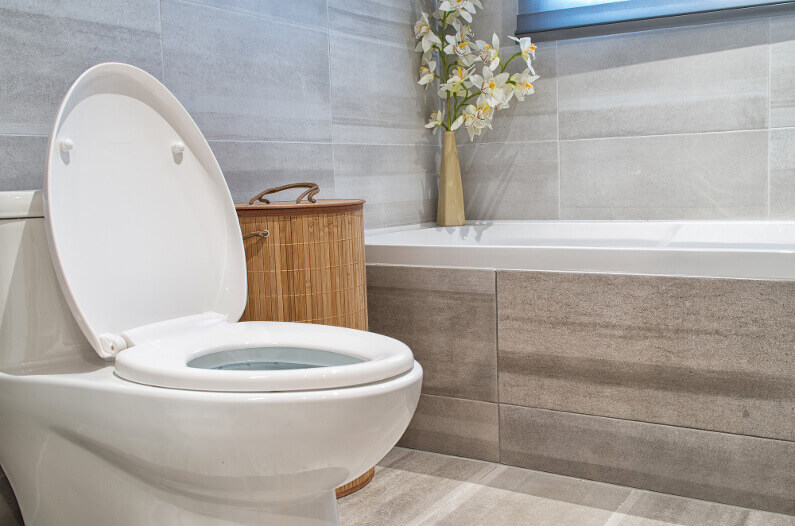 Johnny Cash once sang, "I've been flushed from the bathroom of your heart." When it comes to the bathroom, we all take flushing for granted. What happens, then, when you move to flush your waste, and it just won't go down?
The predicament of a clogged toilet can happen to the best of us. Are you trying to figure out when to call a plumber for a clogged toilet? If yes, you should read on for the key things to know.
Have You Performed The Following Steps?
Refrain from flushing again and close the flapper: If you flush more than once when you have a clogged toilet, it can cause water to overflow onto your floor by filling the toilet bowl unnecessarily. To close the flapper, lift the lid off the toilet tank, and identify the flapper. The flapper is a circular rubber piece that prevents water from flowing in and out of the toilet. Make sure the flapper is closed.
Prep your area: Place newspaper or old towels around the perimeter of your clogged toilet. Turn on the fan in the bathroom to prevent odor from accumulating. Grab some rubber gloves and change into old clothes to avoid stains and maintain hygiene.
Search for an obstruction: Look into the toilet and see if you can spot an obstruction, like a toy or other object. If you do spot something you can remove, pull it out while you wear the rubber gloves.
Use a plunger: Use a high-quality plunger that allows for a suction seal. If it does not create a firm seal, run it under hot water in order to soften it and allow for better suctioning. Plunge gently on the first pump, and then more vigorously 15-25 times, making sure to alternate with steady strokes and monster heaves. Always ensure that the entire plunger is covered with water.
Alternative Unclogging Techniques
Consider using a toilet snake: A toilet snake is a long wire coil that must be turned clockwise through the pipe so that the blockage can either be pulled out or pushed through the main pipe. If you decide to use this option, however, make sure you are confident in how to do it. Using a toilet snake the wrong way could lead to further problems with your drain.
Avoid using chemicals: Chemicals like Drano can cause corrosion in your pipes and could lead to leaks.
Use hot water and dish soap: Fill a bucket with hot water from the sink or shower and squirt a bit of dish soap (shampoo or hand soap are also acceptable) into the clogged toilet. Pour the hot water over the soap and into the bowl and let it sit for a few minutes. The hot water and soap can melt the fats in the clog, provided the clog is made of soluble material. You can attempt to flush again after performing this fix.
When To Call A Plumber Immediately
You've tried the above methods and the drain is still clogged. If you've exhausted the DIY methods, you need the advice of a professional.
You are worried about damage to your system. Forcing your toilet to unclog could lead to serious damage to your home and toilet, ranging from wastewater drifting down to your hallway to permanent damage to your toilet, requiring it to be replaced.
The toilet clogs on a regular basis. If your toilet clogs regularly, the problem requires advanced diagnosis. Plumbers have access to sewer cameras which allow them to see the sewer line. Sewer lines can be damaged from tree roots, corrosion, construction, or landslides. If this is the case, you'll need a plumber to complete these advanced repairs.
You know a foreign object was flushed. If an object like a toy travels as far as the drain line, it can do damage to the sewer septic lines.
You can detect an odor. If a smell permeates the rest of your home, you could be dealing with a hidden leak. A hidden leak can cause damage to your walls and floor, in addition to creating mold. A professional plumber can diagnose and repair this serious problem.
The toilet is gurgling. If the toilet is gurgling and you haven't recently flushed it, there could be an underlying problem, ranging from a blocked vent stack to a blocked sewer line.
Issues To Monitor
The toilet is constantly running. If the toilet is always running, it may be time to replace the inner components, or there could even be a more complicated reason. In order to know, you'll need to consult with a plumber.
You suspect your pipes are frozen. Frigid temperatures can cause pipes to freeze, which will prevent water from passing through your pipes. A plumber can use a thawing machine which will allow water to flow freely once again.
The toilet does not fill after flushing. This could indicate a valve malfunction, and you'll want a plumber to replace it.
The toilet has standing water around the base. If you have not spilled water around the toilet, and it regularly has standing water at the base, a seal must be replaced by a plumber.
You see fractures in the porcelain of the tank or the bowl. Cracks can cause leaks. These require a call to a professional.
You see widespread rust and corrosion. If you see a lot of rust and corrosion in and around the toilet, the entire toilet may need to be replaced.
National Economy Plumbers: Free Quotes and Same-Day Service
National Economy Plumbers has been serving the New Orleans area for more than 80 years. If you have a clogged toilet, rest assured that we can provide you with affordable, competitive pricing and personal service from a licensed, bonded, and insured professional.
Attempting to perform plumbing repairs on your own can lead to damage to your home, the need for replacement parts, along with lost time and frustration.
You can book an appointment or request a quote easily from our homepage. Don't delay when you need a toilet plumber. Contact us for expert advice today, and save yourself time and money!
Serving New Orleans, Metairie, Kenner, Merrero, Chalmette & Terrytown LA
national economy plumbers
© 2012-2023 NationalEconomyPlumber.com
– All rights reserved. –
Information on this website may not be re-used without prior written consent from National Economy Plumbers.
Monday-Friday: 8:00am to 5:00pm
Saturday-Sunday: Client Emergencies Only
Louisiana Licensed, Bonded, Insured
Master Plumbers License LA LMP 214
Master Natural Gas Fitters LA LMNGF 8026
Orleans Plumbing #40 / Gas #03LGA11246
Jefferson Plumbing #408 / Gas #761