National Economy's Plumbing Blog
Plumbing Articles from New Orleans, LA
6 Questions to Ask Your Plumbing Repair Technician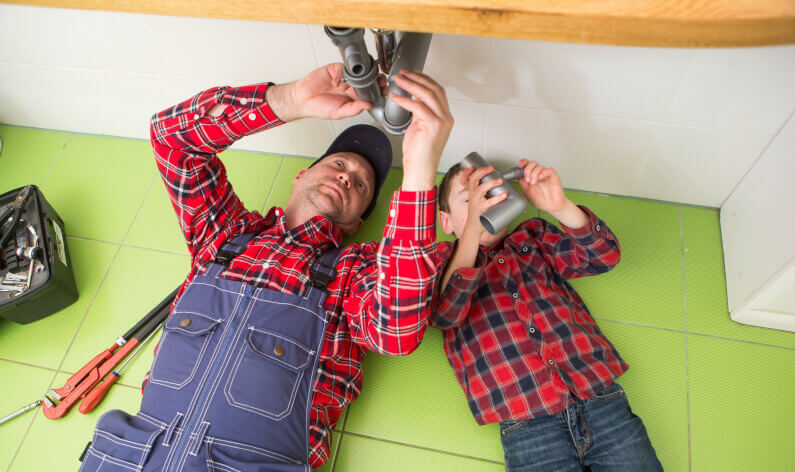 There are more than 480,600 plumbers currently employed in the world, but that doesn't mean that they all have the same skill-set. If you're looking for a plumbing team to come into your home and complete a plumbing repair job, there are some things you need to know first.
Below we've compiled a list of questions that you need to ask the plumbing team before hiring them and allowing them into your home. Once you have these answers, you can move forward with the peace of mind that they're going to get the job done right the first time.
1.What is Covered in The Initial Estimate?
Typically, when something happens with your plumbing system, someone will come out and do a routine estimate check. This is to get a feel for what has happened and let you know what it will cost to fix the problem.
Before you move forward with having your plumbing repaired, you must ask them what is covered by the estimate. Does the estimate only cover the labor it will take to fix the problem?
Does the estimate cover labor and the parts needed for the issue to be rectified? Having these answers ahead of time will keep you from being surprised when the plumber gives you the invoice you're paying after the work has been completed.
2. How & When Should I Make The Payment?
Depending on the company that you're working with, they might make payments differently than others. The first thing you need to know is what type of payments do they accept.
You don't want to write a check if they only accept cash or card payments. Knowing what type of payments they accept will help you gather your funds in advance.
Next, you need to ask when they expect you to make your payment. If the job takes a few days, they may require you to pay a small fee each day the team is working.
If the job is only going to take a couple of hours to fix, most companies will require that you be prepared to make your payment once they've finished. In cases where the plumber insists that you pay them before any work has been done, you might want to be cautious and find another plumber.
Sometimes when people ask for funds upfront, they don't do the job they were hired to do or disappear with your money.
3. Do You Have Insurance?
Picture this; the plumber is working in your bathroom. And a pipe flies off the wall and gives them a concussion. Suddenly, you're stuck paying their medical bills because they've told you after the incident that they didn't have insurance.
It might sound crazy, but if the plumbing repair service team gets hurt on your property and doesn't have insurance, you will be held liable. Before hiring, the team obtains physical proof that the company and each team member has insurance.
This is to protect yourself and avoid extra costs if someone gets hurt on the job.
4. Will I Get A Warranty?
Most companies will offer you a warranty if something happens with the plumbing and you need someone to come back out and take a look. If the plumber doesn't mention a warranty, it doesn't hurt for you to ask.
Depending on your area, the warranty could be between 30 to 90 days, and it covers if a part fails to work or needs to be replaced altogether. It's great to get a warranty because you never know what could happen when it comes to plumbing.
Besides, it's better to be safe than sorry.
5. Will You Clean The Worksite?
You'd be surprised how many companies charge their customers extra to clean up the worksite. Take the time to ensure that when the team's done, they will clean up the mess they've made and leave the area the same way it was before they got there.
If that's something that's not included in their original price, ask for the cost of the cleanup. If you're willing to pay the fee, you can move forward with hiring them, or you could continue to search for a team that includes cleanup in the package.
6. What's Your Specialty?
A general plumber may not have the expertise you need to fix a complex issue. For this reason, you need to ask if the plumber has a specific specialty or if they work in the general sense of plumbing.
It also helps to ensure that the plumber has the licensing to do their job. Not having a licensed plumber on-site could increase the plumbing repair cost and leave you in a position to find someone else to fix the problem that the previous plumber created.
This isn't to say that an unlicensed plumber can't get the job done, but again you'd rather be on the safer side than taking risks like that when your money and home are involved.
Plumbing Repair: Questions to Ask
Before you hire a company to complete a plumbing repair job, there are a series of questions you need to ask ahead of time. You need to ask them if the company and all the individuals on the team have insurance.
After asking this, you need to ask the company to produce evidence of this insurance so that you're not surprised later on. You also want to ask if your plumber has the right licensing to be doing their job.
If you're on the hunt for a plumber in your area, contact National Economy Plumbers. We know what it takes to repair a sewer line and a gas line.
If you're not sold, you can check out the reviews left by customers who've trusted us with their plumbing time and time again.
Serving New Orleans, Metairie, Kenner, Merrero, Chalmette & Terrytown LA
national economy plumbers
© 2012-2023 NationalEconomyPlumber.com
– All rights reserved. –
Information on this website may not be re-used without prior written consent from National Economy Plumbers.
Monday-Friday: 8:00am to 5:00pm
Saturday-Sunday: Client Emergencies Only
Louisiana Licensed, Bonded, Insured
Master Plumbers License LA LMP 214
Master Natural Gas Fitters LA LMNGF 8026
Orleans Plumbing #40 / Gas #03LGA11246
Jefferson Plumbing #408 / Gas #761