Serving New Orleans, Metairie, Kenner, Merrero & Surrounding Area's – Free Quotes!
Our Plumbing Service Areas
Over the past eight decades, many things have changed throughout the Greater New Orleans area. During that time, however, one thing has remained unchanged, that is the superior plumbing service provided by National Economy Plumbing.
Being a locally owned and operated company provides us with an inexhaustive amount of knowledge regarding the area we serve. Accordingly, we appreciate the local traffic and travel times from place to place and can schedule our appointments appropriately.
Sadly in this day and age, for many service providers, being on time has lost its importance. In contrast, this simple yet indispensable quality is just one of the ways we set ourselves apart from the others.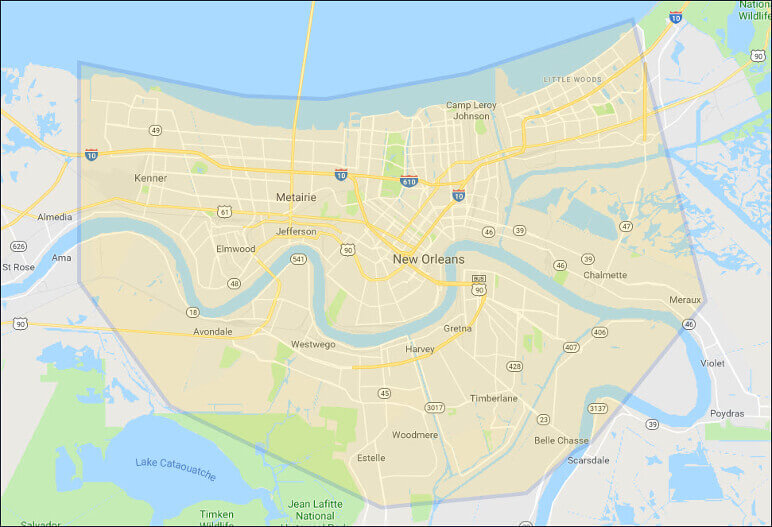 Metairie
Marrero
Gretna
Westwego
River Ridge
Jefferson
Estelle
Belle Chase
Meraux
Woodmere
Bridge City
Water Line Services
Commercial Plumbing
Hydroscrub-Jetting
Kitchen Plumbing
Bathroom Plumbing
Plumbing Fixtures
General Plumbing Repair
Garbage Disposals
Bathtubs & Shower
Water Softeners & Filters
Sump Pump Services
Plumbing Valves
Appliance Relocate
Licensed, Experienced New Orleans Plumbers
By the same token, the distances we are willing to travel to help our customers is far greater than most. As a matter of fact, our coverage area travels throughout Orleans, Jefferson and Saint Bernard Parishes. Encompassing a vast area from Kenner in the West to Chalmette in the East. Not to mention, along Lake Pontchartrain to the north on New Orleans down to Marrero south of the Mississippi River.
Besides being a Louisiana licensed master plumber, we are have obtained our gas license as well. Additionally, we have received licenses for Orleans, Jefferson, Kenner, Harahan, St Tammany, and St. Bernard plumbing and gas work. Going the extra mile literally, and having individual licensing are two more ways we strive to make our customers happy.
Our dedication to our customer's complete satisfaction is what has helped us to remain "The Plumbing Shop At Your Door for Over 80 Years!"
From kitchen remodeling in Kenner to changing a floor furnace in Chalmette you can depend on National Economy Plumbing. By chance, if you look at our coverage area map and don't see your area don't hesitate to call. We look forward to talking with you about your are location, the type of project, and how we can help.
We provide an exceptional level of quality work for all types of residential and commercial plumbing service and gas service. Be sure to call National Economy Plumbing to receive your free estimate and same day appointment when they are available.
Serving New Orleans, Metairie, Kenner, Merrero, Chalmette & Terrytown LA
national economy plumbers
© 2012-2023 NationalEconomyPlumber.com
– All rights reserved. –
Information on this website may not be re-used without prior written consent from National Economy Plumbers.
Monday-Friday: 8:00am to 5:00pm
Saturday-Sunday: Client Emergencies Only
Louisiana Licensed, Bonded, Insured
Master Plumbers License LA LMP 214
Master Natural Gas Fitters LA LMNGF 8026
Orleans Plumbing #40 / Gas #03LGA11246
Jefferson Plumbing #408 / Gas #761