National Economy's Plumbing Blog
Plumbing Articles from New Orleans, LA
This Is How to Unclog a Kitchen Sink the Right Way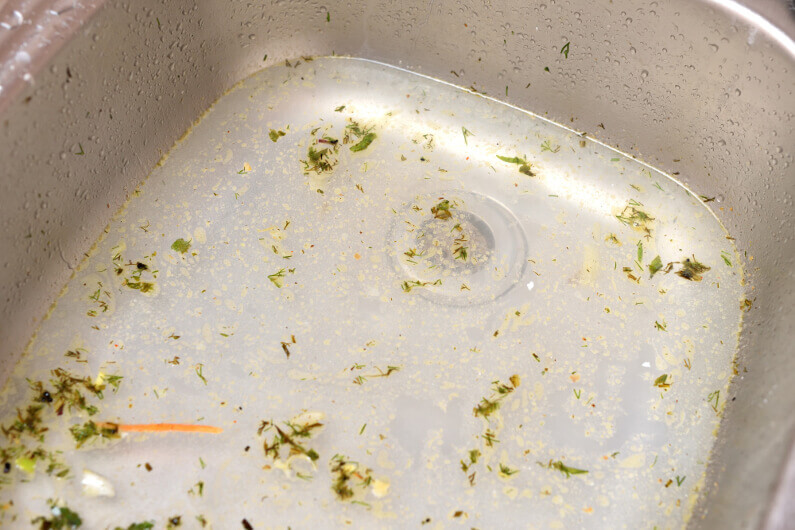 We've all had this annoying problem before. We go to use our kitchen sink and what happens: the water starts filling up. You have a clogged kitchen sink. Now what? Do you know how to unclog a kitchen sink?
There's not always time to call a plumber right away. After all, you're cooking dinner right now and you need your sink. Do you give up and use the bathroom sink instead? No way.
We want to teach you how to unclog a kitchen sink so you don't end up with a mess or an unusable sink until you can get a plumber to help.
Keep reading for a guide on how to unclog a sink and a few of our favorite tips and tricks.
First: Check The Garbage Disposal
Before you go getting your hands dirty, you should check the most obvious culprit first: the garbage disposal.
If you have a garbage disposal, you probably put it through a lot of work, right? You put things in there that you shouldn't. All of the day's food waste goes right into its mechanical gullet.
It makes sense that it would get stuck once in a while.
Before doing anything else, try to run the garbage disposal for a moment and then try to run the water again. It's possible that the problem has solved itself. Don't be embarrassed, this happens all the time.
If this doesn't work, hit the reset switch on your disposal and try again. When this has all failed, you can try another method.
Start Simple With a Plunger
Plungers aren't only for clogged toilets. You can use them to remove pesky clogs in your sink as well.
If your sink has two basins, try to seal one side while you plunge the other if you want the best results. This keeps the suction strong.
Create a seal between the plunger itself and the sink. You can add a bit of water to make this easier. Pump the plunger up and down (being careful not to apply enough force to cause damage, especially if your sink is freestanding) until the clog is dislodged.
When you think you're done, run water and see what happens. This is the first line of offense when you're trying to unclog a sink, but it doesn't always work. That's why we have other ideas for you.
Boil Some Water
Did you know that boiling water is sometimes all you need to get rid of an annoying clog? It's as easy as it sounds.
Allow some water to come to a boil on the stove. With gloves on, pour the water slowly down the drain.
When the problem causing the clog is oil, soft debris, or grime, boiling water is often enough to wash everything away. If the problem is more serious, though, you then have the trouble of getting the water out of the sink before you try the next option.
Don't do this if you have PVC pipes or else you may damage them.
Baking Soda And Vinegar to The Rescue
Baking soda and vinegar are some of the best cheap household items that you can have. They're great for cleaning, but they're also good for getting rid of pesky clogs in an inexpensive way.
As an alternative, you can do this with a drain cleaner. Baking soda and vinegar, though, are cheaper and less harmful to the pipes.
Pour about a cup of baking soda down the drain. This will feel unnatural, but trust us, it won't cause a clog (and anyway, the clog is already there). Follow it with one cup of white vinegar.
When vinegar and baking soda interact, the result is a chemical reaction that forms a foam or a paste. This is often enough to dislodge any grime or decayed food that's causing the blockage.
Seal the sink and let the mixture sit for fifteen minutes before running hot tap water over it.
Snake That Drain
So the basic and easy fixes haven't worked. This is when it's time to get a drain snake (or a DIY alternative, though we suggest opting to buy the snake for safety reasons).
Fed your drain snake down the pipe until you reach an obstruction. Then, wiggle the snake around in the pipe until you feel as though you've done enough to dislodge it. Pull the drain snake back up and try to run the water and see if there's any change.
If not, repeat the process.
Prevention Is Key
Unclogging the sink is a pain, and it's an avoidable problem. You should focus on clog prevention.
If you don't have a garbage disposal, do your best to avoid any foods going down the drain. It happens from time to time, and our pipes are strong enough to withstand the occasional noodle or cooked tomato, but you shouldn't make a habit of it.
When you have a garbage disposal, remember that not everything is a good fit for it. You should avoid putting oil down the drain, as well as coffee grounds and grease. These things can be put aside in jars and thrown away or composted when it's time to do so.
It's a good idea to do a quicker version of the vinegar and baking soda trick every time you do a deep clean of your kitchen. This will get rid of any pesky clogs that are forming so you don't have to deal with a large clog later.
Also, when you're done using the kitchen for the night, run hot water for a few moments to dislodge anything that's trapped.
Now That You Know How to Unclog a Kitchen Sink
Knowing how to unclog a kitchen sink is the first part of the battle. Actually doing it is a fair bit harder. Take our tips and tricks and use them on your annoying clogs. You'll have a clear drain in no time at all.
Do you have a clogged kitchen sink or any other kind of plumbing problem that you're having trouble fixing? We can help. Contact us to request a quote today and we'll be there to help you out.
Serving New Orleans, Metairie, Kenner, Merrero, Chalmette & Terrytown LA
national economy plumbers
© 2012-2023 NationalEconomyPlumber.com
– All rights reserved. –
Information on this website may not be re-used without prior written consent from National Economy Plumbers.
Monday-Friday: 8:00am to 5:00pm
Saturday-Sunday: Client Emergencies Only
Louisiana Licensed, Bonded, Insured
Master Plumbers License LA LMP 214
Master Natural Gas Fitters LA LMNGF 8026
Orleans Plumbing #40 / Gas #03LGA11246
Jefferson Plumbing #408 / Gas #761