National Economy's Plumbing Blog
Plumbing Articles from New Orleans, LA
7 Signs Your Home Has a Leaky Pipe (And What to Do Next)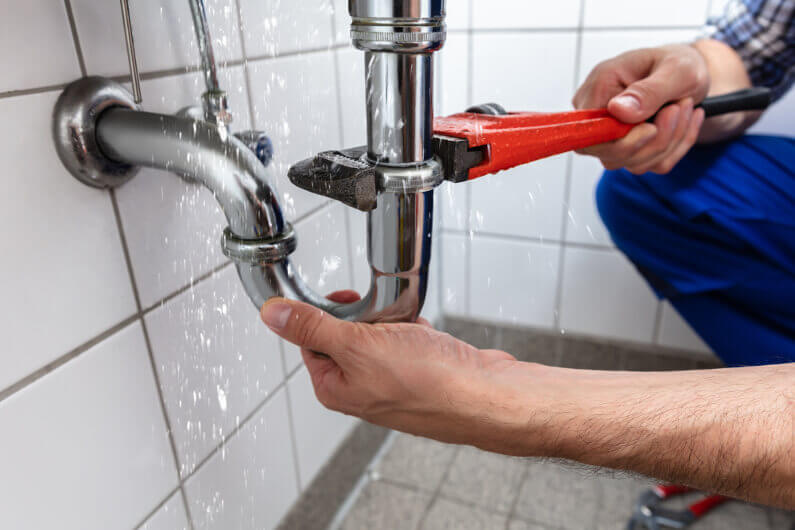 As a homeowner, you have several things that you need to worry about in regards to your household appliances.
There are several things that can go wrong, and if they do, then they will cause a detrimental amount of damage to your property. Such is the way with a leaky pipe.
Leaky pipes aren't easy to spot since they're hidden under your sink, in your walls, and other hidden locations. That's why it's important to keep a sharp eye out for certain signs.
Here are several signs that you have a leaking pipe in your home and what to do if you spot one.
1. Water Meter Is Showing a Leak
Not many people realize that most (if not all) water meters these days can detect whether you have a leak in one of your pipes.
It gauges your natural expenditure and water usage and, if it notices a recent spike, it will alert you to a possible leak within your home.
The only problem is that it won't be able to specify where in your home that the leak is occurring. That means you should be running inside to check all potential areas and pipes.
More importantly, it means that you need to reach out to a trusted plumbing repair expert to get things corrected and prevent further damage.
2. The Sound of Dripping (or Running Water)
As soon as you hear a weird ticking frequency that you're unfamiliar with, your first reaction should be assuming that something is wrong.
More specifically, there could be something wrong with your plumbing that's causing the foreign sound.
If you hear the sound of what might be dripping water or running water, think of the last time that you used your sink, toilet, shower, etc.
Look at the pipes that you can easily access and see if you notice any dripping on the ground below it. If not, make a mental note of where it sounded like the dripping was coming from, then call a plumbing repair company to diagnose the issue.
3. Cracks in Your Home's Foundation
This should be prefaced by saying that not all cracks in your foundation are a sign there's a water leak of some kind.
In fact, many cracks in your foundation come from the wear and tear of time. But, if you think you've spotted a crack or two you've never noticed before, take it as a sign that there might be a leak.
Think back to the layout of your house. Are there any pipes above or around where the crack(s) has formed on the outside of the house?
If so, your foundation isn't the only thing that's going to be harmed by constant leaking water. Give the plumber a detailed description of where the crack is and see if they have any immediate solutions to prevent further damage until they arrive.
4. Off-Putting Smell
One of the most obvious of signs (and most discouraging) is if you were to pick up a musty smell coming from your bathroom, kitchen, basement, etc.
There are many different smells that can come from your bathroom, but this one is caused by the mold that's growing in the areas where the leaky pipe is prevalent.
Not only is that musty smell a bad sign for your home's condition, but it's also harmful to you and your family's lungs. In fact, it can get so severe that you can develop pulmonary fibrosis, which if untreated can lead to lung cancer.
Don't ignore the musty smell any longer. If you even so much as catch a whiff of mold in your home, reach out to an expert as soon as you possibly can.
5. Eye-Widening Water Bill
Everyone's been guilty of opening the water bill and getting frustrated with a roommate or relative that's clearly at fault for the rise of cost.
Now, imagine the horror of opening a water bill that's unimaginably higher than you've ever used before. If that ever happens, it is a tell-tale sign that you have a leaky pipe (or two) somewhere on your property.
That pipe is not only eating into your water bill, but it's also rising the number of repairs that you'll need to make to areas affected by the leaking water.
As soon as you notice a substantial uptick in your water bill, you should immediately search for a leak and call a plumbing expert simultaneously. Even if there isn't a leak, there might be other factors playing into the higher water bill.
6. Floor Stains
Have you noticed lately that your flooring is looking a little discolored or even starting to morph a bit?
If so, that could be due to a substantial leak within the walls of your home. Any warping or bubbling of your floor is a sign of the same dilemma.
Make plans to fix the pipe, first and foremost. Then you'll need to make plans to fix the flooring underneath.
7. Uneven Lawn Growth
Maybe you've noticed that there's a certain spot along the side of your house where the grass seems to grow significantly more than the rest.
It's not because that side sees the sun more, it's because there's a leak in that area where the grass is growing higher.
In this situation, it's hard to detect where the leak might be coming from. Call an expert to see what their best guess is and to schedule an appointment.
Fix Your Leaky Pipe Today!
Now that you've seen several specific signs of a leaky pipe, it's time to reach out to someone that can fix your problem for you.
Be sure to read this article on the reasons you might have a stinky sink and how to get rid of the stench.
For more inquiries, please feel free to reach out via our contact us page and we'll be happy to assist you further.
Serving New Orleans, Metairie, Kenner, Merrero, Chalmette & Terrytown LA
national economy plumbers
© 2012-2023 NationalEconomyPlumber.com
– All rights reserved. –
Information on this website may not be re-used without prior written consent from National Economy Plumbers.
Monday-Friday: 8:00am to 5:00pm
Saturday-Sunday: Client Emergencies Only
Louisiana Licensed, Bonded, Insured
Master Plumbers License LA LMP 214
Master Natural Gas Fitters LA LMNGF 8026
Orleans Plumbing #40 / Gas #03LGA11246
Jefferson Plumbing #408 / Gas #761