National Economy's Plumbing Blog
Plumbing Articles from New Orleans, LA
What Not to Put Down the Garbage Disposal: 7 Things to Keep in Mind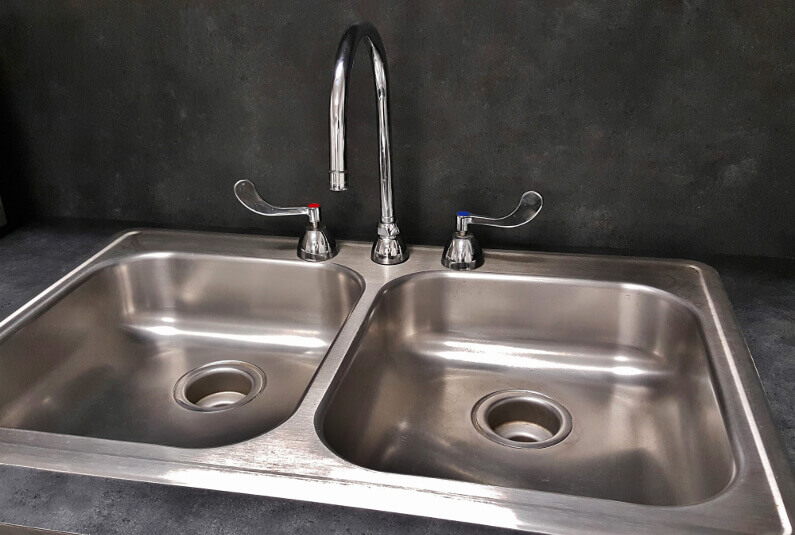 Garbage disposals are some of the most convenient kitchen appliances out there. They make cleaning your sink a heck of a lot easier, and you don't have to worry so much about keeping things from going down the drain. Most food items can be easily disposed of down the garbage disposal with the simple flip of a switch.
However, it's important for you to know what not to put down the garbage disposal as well. That's right, not everything can go down the disposal, so hurry up and grab that bowl of butter before it spills down there! Some things, such as grease, are a big hazard for your disposal.
Without proper care, you could end up with a clogged plumbing system or a broken garbage disposal. Avoid either of the two from happening by learning what you can and can't place down the disposal. Continue reading below to find out more!
1. Fat, Grease or Oil
As tempting as it may be to dump your morning pan of bacon grease down the garbage disposal, don't do it. Sure, it'll go down the drain smoothly and you can even run the disposal for sound effects, but it's vital that you understand how much damage doing so can cause to your garbage disposal.
When fat, grease, or oil is hot, it's in its liquid form. This is when you might think you can pour it down the disposal. However, once the fat, grease, or oil cools, it will harden and thicken. Even if you pour it down the disposal when it's still hot, it will cool down and harden somewhere within your plumbing system.
When this happens, it creates a blockage in your pipes. Over time, the more you pour down the disposal, the great chances of a drain clog forming and causing your disposal to malfunction.
2. Coffee Grounds
Although you may have heard that putting coffee grounds in your garbage disposal is a way to reduce the odors, it's not something that you should actually do. Yes, this trick may help eliminate odors temporarily, but it will also cause you trouble down the road.
After brewing a fresh cup of coffee, think of what the coffee grounds look like? They turn into a thick pasty substance similar to mud. This is not something that you want going down your plumbing system.
The coffee grounds put your plumbing system at risk of becoming clogged.
3. Any Kind of Bones
"But it's just one small chicken bone!" Don't do it. Even the smallest of bones shouldn't be placed inside your garbage disposal.
Your disposal is an amazing tool for grinding up food waste, preventing you from having to keep the smelly leftovers in your trash. However, your garbage disposal is not made to grind up hard items like animal bones. If you do drop one small bone inside the disposal, you don't need to panic just yet.
Your disposal should be able to handle one accidental small bone dropping. What it can't handle is a full rack of ribs being poured down it or even small bones placed in it frequently. With that being said, it's just best to avoid it whenever possible.
4. Cooked or Uncooked Pasta
Pasta might not be a common item that's thought to ruin a garbage disposal, but be wary. A few pasta scraps down the disposal won't do too much damage to it, however, if you're dumping an entire plate of pasta down it, you're looking for trouble.
As you know, when you cook pasta, it expands in the water. The longer that it sits in moisture, the more it expands and the more sticky it becomes. Now, imagine what would happen if you dumped a large amount of pasta down the disposal and let it sit in the plumbing.
The pasta will expand, become sticky, and may cause a clog in the system.
5. Onion Casings
Onions have layers! And that's exactly what you don't want going down your garbage disposal. If you'd like to toss an onion down the drain, do so with ease.
A garbage disposal is a perfect tool for grinding up chopped, diced, or sliced onions. This is a fine item to grind in the disposal as long as the onion casings are peeled off first. Failure to take the peels off of the onions before placing them in the disposal could cause them to become wedged inside the drain.
This happens when the peels fall past the blades and never get ground up.
6. Actual Trash
Okay, so it's called a garbage disposal. Although its name might suggest otherwise, you can't put actual trash down it. The garbage disposal is designed to grind up food items.
It's not designed to grind up actual trash items such as paper towels, food wrappers, banana peels, and more. Keep all of these items away from your garbage disposal as they will clog your plumbing system without a doubt.
7. Fruit Pits
As mentioned before, garbage disposals might be able to tackle a small bone here and there, but they aren't meant to grind up hard items. With that being said, it's best to keep all fruit pits out of your disposal.
This is true for the fruits with hard pits in the middle such as peaches or avocados. Think about it this way, if you can't cut the pit with a sharp knife, then your disposal's blades won't be able to cut it either. Trying to place items like these in the disposal will cause it to break.
Avoid grinding up fruit pits at all costs.
Know What Not to Put Down the Garbage Disposal Before It's Too Late!
Are you wondering what you can and can't place down your disposal? It's essential that you know what not to put down the garbage disposal before it's too late! Keep your disposal and plumbing happy by following our guidelines listed above.
Have a garbage disposal or other plumbing issue? Don't hesitate to contact us today to see how we can help!
Serving New Orleans, Metairie, Kenner, Merrero, Chalmette & Terrytown LA
national economy plumbers
© 2012-2023 NationalEconomyPlumber.com
– All rights reserved. –
Information on this website may not be re-used without prior written consent from National Economy Plumbers.
Monday-Friday: 8:00am to 5:00pm
Saturday-Sunday: Client Emergencies Only
Louisiana Licensed, Bonded, Insured
Master Plumbers License LA LMP 214
Master Natural Gas Fitters LA LMNGF 8026
Orleans Plumbing #40 / Gas #03LGA11246
Jefferson Plumbing #408 / Gas #761